What are Push Notifications, and How Do They Work?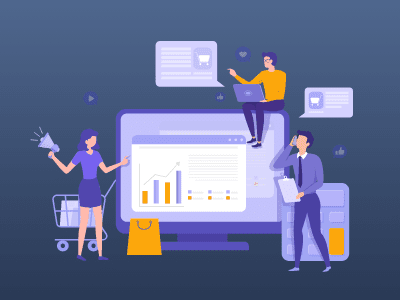 When you develop a mobile app, it is important to make it useful and convenient for your users. One of the strategies you can use is adding push notifications — an outstanding marketing tool and a way to communicate with your audience. In this article, we want to provide you with basic information about push notifications, their types and examples, and the principles of their work on various operating systems.
What are push notifications?
Push notifications can be compared with SMS: short messages or alerts. But the difference is that users receive them right in the applications installed on their smartphones or tablets.
Though companies can send such messages to all users regardless of the operating system they use, there are significant differences between the most popular of them: iOS and Android. For example, when you're developing an app for iOS, you can send push notifications only when the user agrees to get them in advance. However, Android users receive them automatically, but they have an opportunity to opt-out of them manually. There are also some differences related to the first appearing and the size.
Why should you rely on push notifications?
This tool is pretty useful since it helps you with:
User engagements. Your app users stay active because they receive reminders and the newest updates from your company.
Conversation rates. The notification can create a sense of urgency among your audience. If you know that one of your products runs out soon, you can send a message with this information and trigger new purchases.
Brand awareness. Don't let users forget about your brand: send them the news, deals and offers, any other valuable information.
Targeting. With the mobile app, you can choose the users who will receive your messages according to their location.
Actionable metrics. Alerts are also a perfect opportunity to analyze customer behavior. You'll understand which messages do users open and which ignore, how you can increase open rates, boost sales, etc.
Customer care. You don't need to send your customers voluminous letters, just a sentence or two with the most useful information. It is a less intrusive approach to boost engagement and keep users updated.
How to connect better with the audience using push notifications?
You shouldn't expect all of your users to opt-in for your push notifications automatically. They need to feel a connection with your brand. So, when a person downloads your application, wait for one to first feel the need to interact with your company before sending the request. Here are several recommendations that can be useful to make your audience interested in communication with you.
Convey the value directly
People should understand that they're subscribing for the push notifications not just to make you happy but to receive some advantages. So, let them understand that you value your users, that you need their opinion, and you're ready to provide them with some useful features.
Let them control
Brazen marketing, when companies promote their position unconditionally, is no longer in vogue. These days it is important to be polite with users and to let them know that they can decide for themselves whether they are ready to hear from you whenever you want it. Provide them with the opportunity to stop receiving these messages anytime they want it. You shouldn't have complete control over your audience; show you appreciate their privacy.
Create a sense of urgency
However, not all traditional marketing strategies don't work today. People still feel more ready to buy something when they know it is a limited offer, something they should decide about right now, without any delays. So, when you want to encourage the user to tap and check your updates, mention that it is urgent.
Be personal
People are tired of general messages about everything and nothing at the same time. Try to come up with something personal to attract attention. Think about interesting updates your users already have in their heads.
Ask for feedback
It goes without saying that people love it when their opinion is valuable. They are always ready to share feedback when they know that it matters. So, once you deliver the service, ask users to review or rate it. It is an opportunity to kill two birds with one stone: to get useful insights that will make your product better and to let your audience know you're doing your best to meet their expectations.
How do push notifications work?
All these advantages do sound amazing, but you should understand the principles of the work to take the maximum out of them. The key is that once the application user clicks on a push notification on one's smartphone, they are instantly redirected to the page with the relevant information. Hence, there are no distractors between the consumer and the call to action.
Let us provide you with the basic information to understand how it works inside the application. There are 3 main participants in the whole process:
OSPNS or Operation system push notification service. Every smartphone or tablet works on a different operating system. It means you can decide what you want to use when developing your application: iOS or Android.
The next one is the App publisher that works with OSPNS before you upload the application to the App Store or Play Market.
The client app is that one your audience has installed on their smartphone and where they will receive messages from you.
You, as an app developer, need to make the best use of these sides. That's why you need the push notification server. The first one was launched by Apple in 2009. It was called the APNS (Apple Push Notification Service). Later, Google came up with its now service GCM (Google Cloud Messaging), and now developers are able to send alerts to all users.
So, if you want to work on this level, your first task is to set up a PNS (push notification service first). It will send a message to APNS or GCM depending on the operating system of your customers, and then the targeted device will receive a message from you. What can it look like? Read on to find out!
5 interesting push notification ideas with examples
Inactivity
If you've mentioned that your inactive audience is gone, don't make the mistake of presuming that you've lost them. If you just accept this fact, you will definitely lose a huge opportunity to build relationships with people who have already shown they're interested in your products or services. So, before you let them go, try to re-engage them with interesting push notifications. They even don't need to open your app to see that there are new updates.
Hello! It's been a while since you last visited the store. What about a special 15% discount on your next purchase?
Festive season
Whether it is Easter, Christmas, or Independence Day, it is a perfect opportunity to remind your audience about your company. Actually, these are brands who create a festive mood; just remember the traditional Coca Cola advertisement. You can be one of them staying connected with your app users in this period. And, of course, don't forget to provide them with a reminder about holiday sales.
Get festive!
Our New Year collection is just right here!
You can go further and make your push notifications even more interesting using segmentation.
Product launch
When you're about to launch a new product, you definitely feel worried. It is one of the most nerve-wracking periods for each company, regardless of its size. As a business owner, you want the new solution to become popular, and you spend days and nights trying to make it perfect.
Do you know what can help you? A bit of support! Create a hooking push notification to your existing users, and ask them to rate the new product and provide you with feedback. You'll definitely receive a warm response!
We're happy to introduce our newest features. Be the first who will try them!
Ask referrals
Sometimes you don't need to launch huge marketing campaigns in order to attract more new customers. Each of your customers can bring you at least a couple of friends. That's why the referral is one of the most successful channels. And one of the cheapest. Think of how you can encourage your users to invite their family or friends to download the app.
Want 15 off on your cart? Invite a friend and enjoy shopping together!
Back in stock
It is always disappointing when you fall in love with a product that is out of stock. But if it is real love, it will happen because you are a Coupidone who can remind the users that they were interested in this skirt or a tablet.
You asked, and we remembered it!
Your desired item is in stock again!
Of course, these 5 messages are not enough to show how interesting and useful push notifications can be. Be creative, experiment, and take care of your customers to provide them with an amazing experience!
Are You Ready to Increase App
Ranking and Get More Sales?