More and More: Make Your App Installs and Loyalty Grow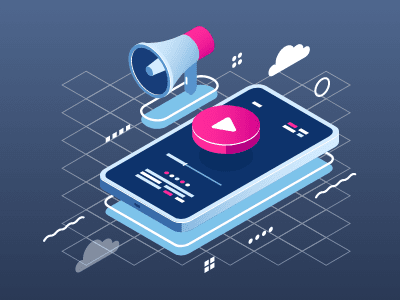 Almost all modern people have smartphones. And they spend inaverage 4 hours per day using their devices. The biggest part of this time (near 90 per cent) is used for applications. That's why useful software for business, fun, and studying are so in demand.
The application market is full of propositions for users. On the one hand it allows making the best choice among such variety of apps. But on the other hand it is quite easy to get lost in large assortment.
Let's count: there are more than 7.2 million programs in the most popular stores (5 million in Play Market and 2.2 in App Store). And all people are seeking for qualitative and fair software to use. But they are bewaring cheats who aspire to use their personal data or coax out of their money. That's why your main aim is to encourage potential customers to download your program and be loyal. In your general strategy you should divide users into 2 main categories: current and potential. And if most developers try to encourage only potential audience than smart companies always take care about both of them. Such developers invest money in promotion to attract new customers and always create important things for current users to make them loyal. It is a real challenge you may think, but in a real life you can gain it. Just use these well-known advices and start to collect people's love.
3 Main Ways to Attract New Customers
1. Use deep linking
It is one of the most 'fresh' approaches to attract users. It plays a great role in customers' retention. To use all advantages of this feature you need to enable prorated option in the promotional emails. Here is the way it works: After app development and confirmation in mobile software store you get an opportunity to register protocol handlers with your special link. So people can click this link and have your program installed. It means that this URL contain your product and transfer the target person to it. If this software isn't still installed on your customer's device he will be directed to app market to download it.
2. Encourage people any way you can
Sales are real challenge for marketers, because they need to make customers choose their product among others. Nowadays users have a great variety of software so they are expecting something real cool from any new developers. You need to encourage them by profitable and attractive offers. The main thing is to remember that customer is your target, not rival. You must make their purchase worth the wasted money.
3. Use all advantages of mobile advertisement
Let's imagine that you had gathered a cool team to develop your app and they done excellent job. Is it enough to make your commercial side and sales successful? Of course, it is not. You have to spend a piece of your budget on advertising to make people exciting. Who can buy your software it there is nothing information about its release? That's why you should use several most popular platforms to let users know about new application. The best way of it is the mobile software markets.
Don't forget about additional approach – emails. You can create attractive letters and communicate with clients by this way. But to promote your product via emails you need to have a subscribers' base.
How to Increase Your Customers Loyalty
1. Let users manage push notifications
You need to become friends with your customers. They should see that you try not only to earn money but also to make their life better. One of such options is a free putting settings to notifications. Most developers know that it is an excellent approach to communicate with customers but they don't use it advisably.
Let people to manage by their own what kind of notification they agree to receive. Put much attention to the time when your massages is going to appear. Don't waste such useful way of promotion, because one mistake can cost you hundreds of clients.
2. Create updates time after time
Even the most well-design applications have bugs. Such problems usually appear during customers use the product. Besides, your program has to be modern and proper for all customers' needs. That's why you should create updated which will help clients.
This option has another side. It also can help in people encouraging. They will be pleased with such huge attention and be more and more loyal to you.
3. Be personal
All marketers researchers submit that people appreciate personalization. That's why salesmen always try to call potential client forhis or her name. It helps to build friendly communication.
So you need to use all advantages of personalized marketing in your promotion.
4. Use layered UX
Make customers open you app repeatedly. Make your UX to be so called layered. It means all options will be opened in gradual mode.And the best thing you can gain that your users can't imagine their everyday life without your product.
One promotional method doesn't guarantee the users' loyalty. You need to use several approaches at one time to make it comes true.Don't stop in your efforts even if you have done several mistakes. Do your best and you will gain lots of installations and people's retention.
Are You Ready to Increase App
Ranking and Get More Sales?